I have wanted to go to Panama for as long as I can remember. My dad was Military Police in Panama during the 1989 invasion, so while he didn't tell me what that really meant when I was younger, he did tell me about the beauty of Panama…
…and about all the fun he had with his buddies. I also took every opportunity in geography or social science classes throughout grade school to study Panama and learn more about it. Getting the opportunity to finally go has brought me closer to him and given us more common ground. It has also made me aware of the toll it took on him. Through our Panama prep class, I learned about the invasion and was able to ask him about his experiences. It was kind of scary to see how deeply he had really been affected by the invasion and how little he had been able to tell me about it because of the emotional toll it took on him. However, this did not deter my excitement. Rather it made me more interested in going to see this country and to see how the United States involvement in the country had really shaped the culture of Panama as it was now.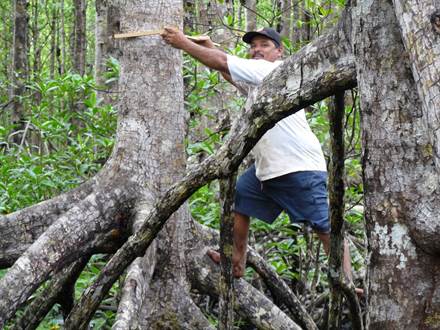 Through all my learning about Panama over the years, I had never heard of the impact of the mangroves on the local culture and climate. When I started working with Wetlands International in January, I did extensive research on these gentle giants and their importance to not only Panama but to the rest of the world. I am fascinated by the ways they protect the coastline of Panama, and by the large and thriving ecosystem within the forests of mangroves. Though I think seeing all the different part of Panama will be amazing, I am most excited about having a work day in the mangroves and getting to really immerse myself in this part of the Panamanian environment and culture.
Last year I got the chance to study abroad in Spain, and I thought, «there is no way that 2016 can top 2015.» Panama evens the playing field a bit. After my time abroad, one of my goals was to get a passport stamp from a new continent in the next two years, and I am so grateful that ROXO with Wetlands International is giving the opportunity to spend more time abroad. I truly believe this trip will teach me more about Latin American culture and will help me feel more passionate about the environment.
Alex
These are entries by students from Texas Christian University (Fort Worth, TX, USA) Roxo students traveling to Panama for Spring Break to work with Wetlands International on the Mangrove Project.