With the support of DOB Ecology, our office in Argentina has initiated a new project to safeguard the spectacular, beautiful, diverse and hugely important wetlands of the Andes in the southern part of the Tropical Andean biodiversity hotspot. To face with this huge challenge we've started two demonstration projects in two of the region's most iconic wetlands; Lake Junín in Peru and the Pozuelos Lagoon in Argentina.
The situation
High Andean Wetlands provide ecologically and economically important pastures, plant fiber, food and fuel to local communities, store and regulate water flows, capture carbon and represent an invaluable cultural heritage. Centuries of human activities have affected these ecosystems, including unmanaged livestock grazing, and pollution from extensive mining activity. Together, they degrade the wetlands, threatening their endemic biodiversity, their capacity to supply water and the livelihoods of local communities.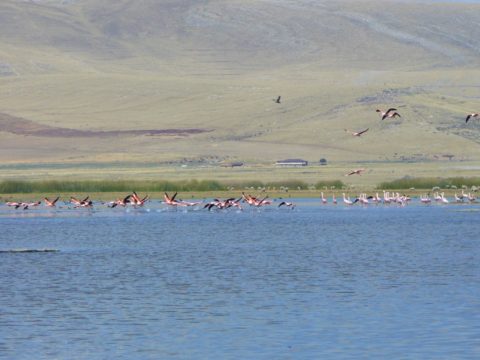 What we are doing
Both sites, Pozuelos Lagoon and Lake Junin are protected areas, designated Ramsar Sites and priorities for the Regional Initiative for the Conservation and Wise Use of High Andean Wetlands under the Ramsar Convention. Their natural resources are key value for their local economies, including pasture, peat for fuel and food resources. Their associated peat bogs are valuable CO2 capture and storage sinks.
The problems in Pozuelos and Junín are typical of those found in High Andean wetland ecosystems. The principal threats are pollution from extensive mining activity past and present, livestock over grazing and pasture and peat lands degradation.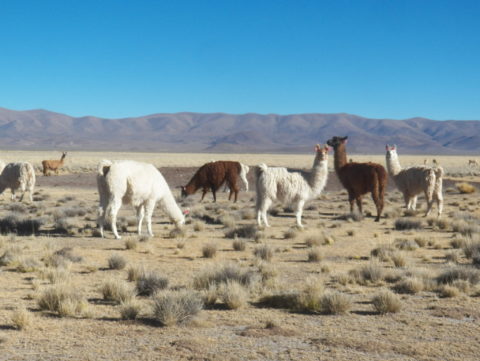 This two years project Wetlands International is implementing, aims to improve the conservation status of this two threatened High Andes wetlands sites of great importance for biodiversity including endangered species and the wellbeing of local communities. We are developing new knowledge's, better practices and wetland restoration experiences that support the protection and restoration of these two wetland ecosystems and the preservation of the conditions for resilient livelihoods of local communities.
Regarding this proposal, the Wetlands International team travelled to Pozuelos Lagoon and Lake Junín to begin the project. We've organized together with the local partners at each site an inception workshopfor experiences and information exchange.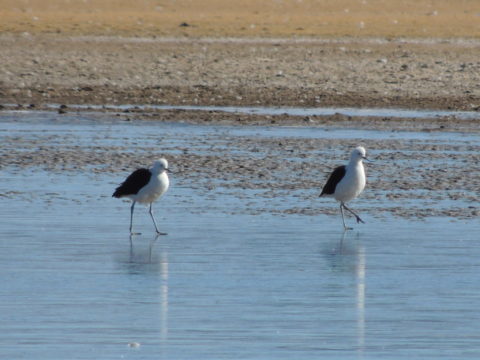 At Pozuelos Lagoon the team make an assessment of potential sites for peatbog restoration and fieldwork planning and guidelines development for a more sustainable pasturage management around the lagoon. We´ve strengthen an alliance with the National Park Administration from Argentina towards the project implementation in the ground. Actually our team is working with the local communities generating cooperation and necessary agreements,starting the work in the field.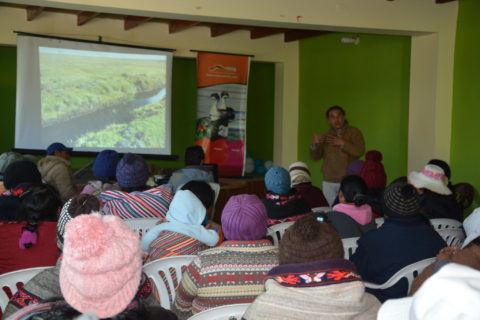 At Lake Junín we've designed a cooperation agreement with Asociación Ecosistemas Andinos -ECOAN- for the project implementation at the site. In addition we've established a strategically alliance with National Service of Protected Natural Areas –SERNANP-, in charge of Junín National Reserve management.
Besides the workshop, we 've made an assessment of peatbog degradation due to peat extraction for cooking and heating at the field and have identified potential sites to improve pasturage areas around the lake. Continuing with the project plan, the local team is working with two important local communities for better practices to manage peat extraction.
If we can redirect the trajectory of these sites and point them towards a healthier future then we believe that we can also provide a blueprint that can be applied to many other locations in the region.
videos
Saving High Andes Wetlands for People and Nature – Pozuelos Lagoon, Argentina
Saving High Andes Wetlands for People and Nature-Lake Junín, Perú